Building A Website Business
Our Story .....
"We didn't want to only build a Website - we wanted to build and evolve a successful Website Business ...... "



Opals are our passion and when we first started our journey with Opals-On-Black,  we had no idea that we would one day build our own website and website business.
 

We had been developing and building our Opal business over a period of time, and we started to market it by going out and  introducing ourselves to different jewellery retailers and other relevant outlets.

However, this was just a localised thing and, although successful, we started to have dreams of presenting our "Opals-On-Black" products out onto the world market!

Eventually we decided that we would just have to "take control of our own destiny" and try this computer and internet thing....!
It seemed the only way to go if we wanted to launch our opal business on a global scale.
Our problem was, we knew opals, but we were both computer ignorant... so we bought a computer and fiddled around with it, prodded it, yelled and threatened it a number of times all the while trying to figure out how it worked and what it was capable of doing.

However, we did slowly computer-educate ourselves to a basic level (one point up from zero!) and got on-line with the internet and plugged ourselves into eBay.

Our first online marketing venture !

It turned out to be pretty successful for us (and very educational computerwise...) but in the long run we felt the restriction on our creativity in the way we wanted to present Opals On Black to the world.
We wanted to develop and expand our ideas and products.

We visualised building a website business of our own, with our very own traffic !

The Search Begins....!


So we started looking around for information on how we could start to do this and found how hard it was to get good, sound and honest information on the internet that we could clearly understand and felt was right for what we wanted.

"Building a website - no problem - have you up and running online in no time" we were told.  Lots of offers on that one, just not the backup to go with it !

It was all very frustrating and a lot of it confusing for us....  how do we do this, which way do we go ?

Reading lots of books gave us enough information to realise that it was not just about building a website .... it was all the "other technical stuff" that goes on behind the scenes that you needed to know to build yourself an online business, to get it up and running and, more lmportantly, get it noticed on the internet.

Well, after many false starts and frustrations (even trying to build our own version of a website on a "freebie" site), Belle stumbled across a website business, Site Build It! (SBI!2.0),  that looked hopeful.... she went in and did the research  on it ... and came out very impressed with what this business was all about and what it was offering.

Nothing hidden, all up front... all the information there in front of us.

Then, being sceptical from past experiences, the thoughts started to come in ...... was this too good to be true ?

So Belle downloaded the  free SBI "Action Guide" and some of the free ebooks on offer and studied them to get an idea of how this system worked and voila...."the lightbulb came on" !

Now we have our dream, our passion "out there" - on the world stage !

If you had told us that a short while ago that we would achieve this, we would have laughed and said - "no way" - we didn't have enough computer skills or knowledge at that time to build a viable website let alone a website business!

But ... we do have now!

Just by following the step by step guidance and expertise given by SBI!2.0,  we have already seen the steady growth and internet search results with our website business.

Interested in how ?   Then please read on... you won't be wasting your time - we didn't.



Who Is SBI! 2.0?




SiteSell.com was established by Dr. Ken Evoy in 1997.

Dr. Evoy realized that the average business person needs more than some information given  in books, no matter how good the books..
So SBI!20 offers both the C T P M process of Sitesell  and an all-in-one Web site hosting, building and marketing Suite of tools that enables them to execute the process flawlessly.
SBI!2.0 is a unique system.

SBI!2.0 makes online business success do-able. Anyone can succeed with it's all-in-one process, tools, and guidance.

SBI!2.0 includes all the tools and a proven process required to build a long-term, profitable e-business, and new tools are added continuously so you can feel secure that you'll always have the most up-to-date site-building and marketing tools.

And ....

Dr. Evoy's  books have helped hundreds of thousands of entrepreneurs and small businesses.  Make Your Content PREsell!  and Make Your Words Sell!,   formerly books sold by SiteSell, are now free.  They are literally the dynamic duo of "Web-writing." 

We downloaded these "freebies" before signing up for anything and found them very informative, easy to read and understand and they also opened up a whole new way of thinking about writing up a website !

They also helped us feel much more self-confident and confirm the content quality that was being offered by SBI!

The "Make Your Content PREsell" is a book that can help to break down the "I can't write" barrier-mindset.

So don't dismiss these "freebies"; they are very helpful and will give a lot of benefit....


SBI! 2.0 Is Available In 2 Versions ! 1)  do-it-yourself  with the guidance of SBI Action Guide/Videos.

2)  have it done for you with SBI's turn-key Site-Building Service



How  SBI! 2.0 Helps & Guides You To Get Your Website Business Up & Running ....




With SBI!2.0 you don't need to know anything upfront about building a Web site in order to succeed.  And yes, there are easier ways to build a Web site.

However, online profits require more than just having a collection of Web pages.

SBI!2.0 removes the technical barriers. The tedious, "under-the-hood" technical stuff is handled automatically allowing you to keep your attention focused  on building your business.

We were very thankful for this very important part of SBI!2.0, as we really did not have any understanding or knowledge of internet "behind the scenes" technical stuff; how search engines worked, sitemaps, metatags etc., so we could indeed not worry about the "techie" stuff and just put our "grey cells" to building the website part of our business.


The SBI!2.0 Action Guide presents a step-by-step process, presented in both written and video formats. All you have to do is follow it.  The most successful SBI!3.0 owners say "all they did was follow the Guide." They don't get sidetracked, or have to guess at what to do next. SBI!'s guided approach helps you reach your goals.

Continuous mentoring via the Action Guide and online help is always available. You are carefully guided every step of the way, which make success that much more do-able.
Advanced help is also available (when you are ready for it), all designed to save you time and keep you moving forward.

You can take a good look at the Action Guide  -  like we did ! Well worth it if you like to know the inside-out of things before you make any decisions - and the team of SBI!2.0 are happy for you to take these "hard-looks" !
SBI!2.0 comes with unlimited Customer Support. SBI!2.0 owners often call it the best they've ever experienced.
And the SBI!2.0 Forums complete the picture.  They are the most friendly, help-and-be-helped set of e-business forums in the world. 

SBI!2.0 has ano risk, 30-day money back guarantee. It's a risk-free decision that you can make with confidence and peace of mind.
Too many  non-SBI! sites  start  without profits being "built into"  the process from DAY 1. It all begins with the right process. 
Content Traffic PREsell Monetize is the underlying, logical and powerful process that capitalizes upon the fundamental realities of how people use the Web.
C T P M puts you on a solid, profitable business foundation.

Choosing your best site concept is not always as obvious as you might think.
SBI!2.0's Brainstorm It! and Niche Choose It! show you the best path for your particular business, reveal some surprises, and help you make the right choice.

Monetize It! helps you choose the best monetization options for your site concept. Creating a diverse monetization mix will help you maximize your site's profitability and ensure long-term growth.

Page creation is as simple as riding a bike with its training wheels still attached. No need to know HTML. The block-by-block builder trains you how to write a page that is both "Search Engine and human effective" -   It's simple, do-able and most importantly, effective site-building. 
The block-by-block builder is perfect for beginners, but even many "advanced" users should start with this tool. It's an excellent way to break bad habits!

At the beginning we had no knowledge of HTML so the block-by-block builder was a blessing ! However as our knowledge of HTML has grown we have added more and more in where we need it. The block builder is very "user-friendly"! Since SBI!2.0 is compatible with popular HTML editors (ex., Dreamweaver) and image tools (ex., Photoshop, Flash, etc.), you can easily use advanced page-building techniques, if you like. This allows for maximum creative flexibility for all skill levels.
These are SBIers who would like to tell you their SBI!2.0 success stories....
"Big Media" & SBIers ...... SBI!2.0 Websites are picked up by the media! Here is the media coverage on some of those SBI!2.0 websites....
Meet the real people of SBI ! ...Visit them on Facebook.....

Here Are Just Some Of The Included Extras !


When it's time to create your site's Look & Feel, SBI!3.0 provide fully customizable, easy-to-use templates. You can choose and create a professional-looking presentation, even if you have no design skills. And if you're a designer, you can create and upload your own.

This page shows a range of styles.


SBI!2.0 includes domain name analysis, optimization, and registration. You will develop the best name for maximum profitability in your niche. (It's often different than what you had planned.) 


SBI!2.0 includes an easy-to-use form builder with autoresponders. You can build contact forms, surveys, and polls to easily communicate with your visitors. 

You don't need to use your e-mail address, which attracts spam. Experienced users will appreciate no longer needing separate form-building tools. Having these tools all in one place saves time and expense, too.


List-building and e-mail marketing are included (usually these expensive features are bought separately).  Sign up visitors to your e-zine subscription list and then mail an issue to them. This repeat exposure builds a stronger bond with your visitors and allows for direct promotions to them.  ( Deeper PREselling = More Monetization.)

Infin It! enables you to plug third party resources into your SBI! site. You can add forums, shopping carts, datafeeds, blogs and other server-side functionality.

Infin It! brings you an SBI!2.0 website with no limits.
The SBI!2.0 private Forums provide friendly, helpful support from other Site Build It! users. Help is available from folks who are in the same place as you. This peer-to-peer support gets you over the humps along the way in a stress-free environment. Help is available even for advanced questions. The forums are a business-building support community ready to help you succeed.
What a marvellous help these Forums have been !
It has been a great place to receive help and guidance and learn even more internet information. A positive place and one with a motto of "be helped and pay it forward to others".

This Exciting New Module Has Now Been Integrated Into SBI! 2.0



New tools are being added continuously so you can feel secure that you'll always have the most up-to-date site-building and marketing tools and within this an exciting new tool has now been integrated into SBI! 2.0.


SBI! 2.0 now includes this new module!

Content 2.0 allows your site's visitors to create content for you!  With this tool you can develop and have your own version of  Flickr, YouTube, Facebook or Twitter -  right on your own website!
Turn any page on your site into an invitation for your visitors to add content, that allows other visitors to comment and rate the page much like on a blog.

This means your site will have more Search Engine attractive pages. Having more site pages means the Search Engines will rank your pages higher and that leads to more traffic.
A chain of events that simply started through the contributions of your visitors!

Your visitors create real, valuable text-based Web pages on your website  - all quality controlled by you - with  the kind of content that Google really gets its teeth into and which delivers tons of long-tail search traffic.

SBI! 2.0 enables you to "give your visitors the ability to give the people what they want," and to comment on it, and to spread the word virally to friends, etc.
So you can.....
   1. Turn any SBI! page into an irresistible invitation for visitors to join in the fun.

   2. Visitors build Web pages to share everything from Caribbean adventures to happiest memories depending on the topic of your website!

   3. Other visitors then comment and rate the pages.

   4. Viral e-mail notifications are built into every step!


Originally an "add-on", Content 2 was considered TOO important for the development of building your overall website business  -  to NOT include it!

So Content 2.0 now has a permanent home in the just-released SBI!3.0.
And the best part ?   It is freely included in the all-inclusive competitive price of SBI.! 
What better way to show you this all-inclusive SBI! 2.0 module than to use it to create this new site to invite
SBI! owners to participate and share their own "2.0 experiences"
with you -
join in
with your comments or questions on any of the invitation pages from our SBI'ers -
see how this exciting new module works
!

SBI! 2.0 Has Helped Us Put Our Dream & Passion Into Reality.....


Do You Have Your Own Dream And Want To Build Your Own Successful Website Business ? Maybe you have a hobby you are passionate about (like us), and want to get it "out there" into the world and earn income whilst doing something you love .......?

Are you are looking to start a business where you can work from home, giving you more precious  hours to spend with your family ,or....

Giving you more financial freedom in your life ?

Are you looking to retirement and wanting to retire to something ?

Do you have any Questions you wish to ask ? You will find friendly and helpful people here to answer them for you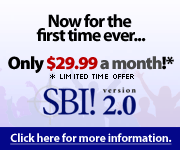 Based on all that Solo Build It!2.0 delivers, a subscription to Solo Build It! should sell for thousands of dollars per year - you pay only USD $299 per year. And .... starting now, you also have the NEW payment option of paying $29.99 per month.


In the wise words of Mark Twain .....

"Twenty years from now you will be more disappointed by the things that you didn't do than by the ones you did do.
So throw off the bowlines. Sail away from the safe harbor. Catch the trade winds in your sails.
Explore. Dream. Discover."


All the very best on your journey,

Peter & Barb (Belle)
Opals-On-Black



P.S

. We built our website using Site Build It of which we are an

Affiliate Member

, so if you decide to start your own online business today using any of the links above, we will receive a small commission that helps support this website.

We would with sincerity say, that we would never personally recommend a product or service to another unless we have not personally tried it ourselves and strongly believed in it, therefore we are

definitely more than happy

to fully endorse what we have given above as accurate information.

We look forward to meeting up with you in our great SBI Forums with your own internet business....!


Return from Building A Website Business to Opals On Black Home Page
---